Foundation Wall Reinforcer
Complete Basement Systems offers the Reinforcer - a foundation wall reinforcer for foundation walls which need support and stabilization. We offer this product to individuals in: Minneapolis MN, St. Paul MN, Rochester MN, Austin MN, Albert Lea MN, Fairmont MN, Mankato MN, Burnsville MN, Eden Prairie MN, Saint Cloud MN, and other areas of MN.
Carbon Fiber - Foundation Repair

A carbon fiber foundation repair system designed for strengthening concrete and masonry structures.
Under circumstances where access or clearances prohibit using basement interior beams like PowerBrace™, we use space age materials that provide incredible strength with almost no loss of interior space.
Foundation Cracks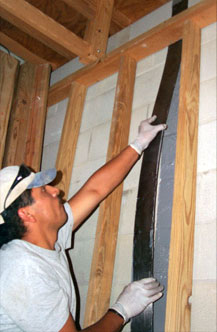 If a concrete block wall is exhibiting foundation cracks in the mortar that joins the blocks, it is an indication that the hydraulic forces of soil and climate are already more than the wall can endure. The wall wants to bow but the concrete cannot bend so the weakest points, the mortar joints, tend to fail. In time, the wall will move.
It is not advisable to finish such a wall as that would hide deterioration until it becomes a much more extensive problem. With advanced materials, it is possible to make the wall strong enough to resist displacement.
If a wall has not started to implode or buckle, the installation of bonded material to strengthen the wall is an economical and space saving solution. The Reinforcer makes the wall strong enough to resist further bowing behind a finished basement wall.
Foundation Repair Company
For this high tech material to properly bond, it must have the right concrete surface texture, free of contamination by paint or dirt, and our foundation repair company can ensure this. We grind off the existing surfaces using special equipment that prepares the wall without even making a mess. Grinding dust residue is almost non-existence. The Reinforcer is a patented state-of-the-art system developed by professional engineers. A combination of space-age polymers and carbon fibers have been processed into a material that is virtually impossible to stretch. Less than 1/16" thick, it is a perfect material to use on basement foundation walls to resist outside pressure.
For a free foundation repair estimate in Minnesota, call 1-844-709-7774, or e-mail us today!
Looking for a price? Get a no cost, no obligation free estimate.