Crawl Space Repair Specialists in Rochester, Saint Paul, Minneapolis, Saint Cloud, and Nearby Areas in Minnesota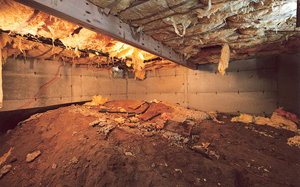 Our crawl space repair company fixes damp, wet crawl spaces in Minneapolis MN, St. Paul MN, Mason City IA, Rochester MN, Austin MN, Albert Lea MN, Fairmont MN, Mankato MN, Burnsville MN, Eden Prairie MN, Saint Cloud MN, and other areas of MN and IA with the CleanSpace crawl space encapsulation system.
Recent Testimonials
"They did a wonderful job installing the CleanSpace in our crawl space area."

Terry C. of Clear lake, IA

"I feel very confident that we won't have a water problem again."

Steve and Raeanne M. of Forest City, IA
Three things can destroy organic material and wood in particular (the material from which a house is built); water, heat, and ultra-violet radiation. Of these three, water is the most important; as it is the only one we can control to prevent rot and mold from coming in the house.
Wet Crawl Space
A wet crawl space becomes unhealthy and destructive to a home and its occupants. Mold thrives and spreads in damp environments (such as a crawl space) by producing millions of airborne spores that drift upward as the air rises in a house. Cooling and heating costs are higher, especially if you have a vented dirt crawl space, as damp air is more difficult to heat or cool. Also, rot and decay occur in damn environments causing structural damage.
Dirt, vented or even concrete crawl space under a home allows water vapor in the earth to move upwards into the home environment. Mice, snakes, insects and critters of all varieties thrive in damp environments and wet materials.
Crawl spaces do not have to be wet or flooded to be extremely unhealthy. The natural airflow in a house is from bottom to top. This means the moist air and everything in a crawl space is sucked up into the living areas of the home. The presence of mold spores, odors, humidity and critters create a very unhealthy environment for people. Many people are allergic to these things, and experience a host of symptoms and do not realize that their dirt crawl space is affecting their health.
Now, there is a solution to dirt crawl spaces- The CleanSpace System- developed by Basement Systems, the world leader in dry basement and crawl space technology.
Crawl Space Encapsulation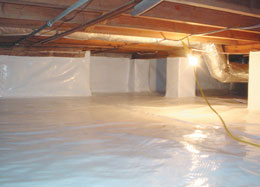 The CleanSpace crawl space encapsulation completely isolates your home from the earth, dramatically reducing the humidity level in the air. Lower humidity levels reduce or, in some cases, eliminates mold growth, rot, and critters from your crawl space, making the entire house healthier.
The liner is a heavy 20-mil-thick material, similar to a pool liner. It is manufactured in seven layers- a blend of high-density polyethylene, a low-density polyethylene, and two layers of polyester-cord reinforcement. It is blue on one side and white on the other. The bright white finished side really brightens a crawl space and allows you to easily see that your crawl space is free of mold, insects, and dirt. The CleanSpace liner is tough enough for you to crawl on it and use your crawl space for storage. Service people can crawl on it without worrying of putting holes or tears in the liner. The liner completely stops moisture penetration.
Crawl Space Sump Pump

All dirt and vented crawl spaces can benefit greatly from encapsulation with the CleanSpace System, but if there is an existing water problem it needs to be dealt with using a crawl space sump pump before a homeowner can seal their crawl space. The core of this system is a sump pump, but only one that is designed specially for use with crawl spaces and the CleanSpace system.
Complete Basement Systems of MN utilizes the SmartSump to fill just that role. The pump itself is a high quality, 1/3rd horsepower Zoeller sump pump, but it is only one element in this carefully designed system.
The Sump Liner:

If a sump pump is in a dirt-lined hole it will quickly clog and cease protecting your crawl space. The remedy for this is a sump liner, but only one that is the right size for the pump. A liner that is too small, for example, could cause a pump to "short cycle," or turn on and off quickly because there is too little water for it to pump. A well-built liner that is the right size for the pump is the best solution.
Pump Stand:

A well designed pump stand will keep the pump elevated and away from silt or debris that does get into the sump liner. This not only prevents clogging or damage to the pump, but also helps keep the check valve clear so pumping capacity won't be reduced over time by buildup in the discharge pipe.


Air-Tight Sump Lid with Floor Drain:



Since one of the main purposes of encapsulating your crawl space is to isolate it from the moisture below, an open sump basin would be counterproductive. Without this lid, not only would there be a hole in your system but any water that did get into the sump would evaporate up into your home. An air-tight lid not only solves this problem, but it stops things from falling into and clogging the pump while making the whole installation look clean and professional.
Sometimes, though, water from below your home isn't the worry. Without any way to get water out of your newly encapsulated crawl space, a plumbing leak could fill it like a swimming pool! That is a problem whether you live in Winona, Albert Lea or Minneapolis. The solution to this is a one way, air-tight valve in the sump lid so that any water that gets down there can drain away.
Pump Alarm:

Another necessity is a battery powered alarm that warns you if you have a inside leak. Because most crawl spaces are visited infrequently, it is possible to have a plumbing leak for years and not know it. Complete Basement Systems of Minnesota´s SmartSump comes standard with our WaterWatch Alarm that will warn you if there is a problem.
Lifetime Warranty:
Pump manufacturers do not offer lifetime warranties. There are contractors who put "Lifetime Warranty!" or "Free Pump replacements forever!" on all their advertising. Thinking down the line reveals a problem with this: the only way you'll know to call them for a replacement is after the pump has failed and your crawl space is full of water.
Dry Already?
If a crawl space does not require a pump to deal with pre-existing water problems, there still needs to be a way to drain water in case of a plumbing leak. The SmartDrain combines the features of the SmartSump - the WaterWatch Alarm and air-tight lid with one-way floor drain - while letting water seep away into the soil. With Complete Basement Systems of MN's WaterWatch alarm, you'll know if you have a leak without finding your crawl space full of water!
For a free crawl space waterproofing estimate in Minnesota or Northern Iowa, call 1-507-387-0500 or contact us online today! We proudly serve Minnesota, Wisconsin and Northern Iowa.
Looking for a price? Get a no cost, no obligation free estimate.