Sump Pumps System Installations in Minneapolis, Saint Paul, Rochester, and Surrounding Areas in Minnesota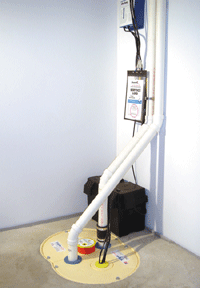 Sump pumps are an electric pump that is placed in the basement of the house, and used to pump water from the basement to outside the house. Sometimes sump pumps drain the water into the house's drainage pipe system, and sometimes they pump the water outside. Sump pumps are useful to have in basements because when water comes in, it helps keep your basement dry. The sump pump is a part of your waterproofing system that makes sure your basement is completely dry. It makes sure any water is removed from your system safely into your yard and will stop problems from basement seepage immediately. We offer sump pump services for: Rochester, Mason City, Austin, Albert Lea, Fairmont, Mankato, Burnsville, St. Paul, Eden Prairie, Minneapolis, Saint Cloud, and other areas of MN and IA
Click here to watch a video about our sump pumps
Sump Pump Installation
Most basement waterproofing systems rely on a sump pump as the final mechanism to get the water out of the basement, and we offer affordable sump pump installation. The Sump pump is the heart of the system. If the heart stops for any reason, your basement gets flooded despite all of the money you paid to dry it up.
If you have a dependable sump pump, chances are that your waterproofing will be more secure and safe. If you have an unreliable sump pump, it could result in basement flooding. At Complete Basement Systems of MN, we offer several models of sump pumps that will make sure that no matter what kind of weather, you can be sure your basement will be completely dry.
Battery Back-Up Sump Pumps
We also offer battery back-up sump pumps, so when the power goes out or there is an electrical issue in your house, the battery back-up sump pump will continue to work and keep your basement dry so you do not have to worry about your basement.
Any questions or concerns about the sump pumps, give us a call at 1-507-387-0500 or contact us today! We proudly serve Minnesota, Wisconsin and Northern Iowa.
Looking for a price? Get a no cost, no obligation free estimate.