Basement Wall Finishing
Complete Basement Systems offers exceptional basement wall finishing services for individuals in: Minneapolis MN, St. Paul MN, Mason City IA, Rochester MN, Austin MN, Albert Lea MN, Fairmont MN, Mankato MN, Burnsville MN, Eden Prairie MN, Saint Cloud MN, and other areas of MN and IA
Basement Wall System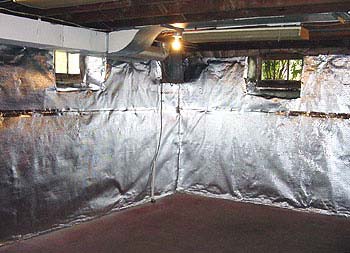 ThermalDry® Basement Wall System is part of a likely pair of products for folks in Minnesota or northern Iowa who are finishing their basements. The basement wall systems, a plastic vapor barrier with bubbles on one side that act as thermal breaks and spacers to allow for drainage, stops water vapor from getting into your basement through the walls and drains water from any wall leak down behind it to the perimeter basement waterproofing drainage system (WaterGuard®). Built up water creates an environment where mold and odors can develop and grow.
Click here to watch a video about vapor barriers for finishing your basement walls
Basement Wall Panels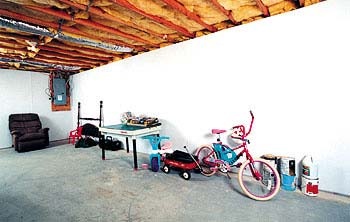 BrightWall® basement wall panels are a semi-rigid white plastic panel system installed on the basement wall to drain water, stop water vapor, and brighten your basement space! Secured with drilled-in white fasteners, the basement wall panels will never come off of your walls, unlike basement wall paint, no matter how much dampness comes through.
If your basement walls leak water, the BrightWall® basement wall paneling will drain any water leaks down behind it to the perimeter drainage system (WaterGuard®) -- without you ever knowing it. The basement wall panel also stops water vapor from coming through the walls and evaporating into your basement.
Most of all BrightWall® provides a clean, bright, semi-finished look that really dresses up your unfinished basement! The bright white wall panel looks great and makes the basement much brighter with the available lighting. We do not recommend painting BrightWall basement wall panels.
It is the best looking and most durable of the three wall system options. If your basement will remain unfinished, and you want the nicest look possible, this is the system for you.
Click here to watch a video about vapor barriers for finishing your basement walls
ZenWall® Basement Walls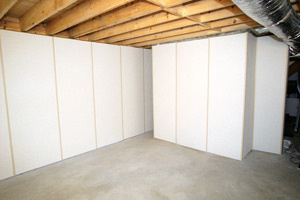 ZenWall®is the simplest way to create a dry, clean, finished look on your basement walls! Now there is a way to make your basement walls dry and get a clean finished look in one easy step: the revolutionary ZenWall® Basement Paneling System. A basement waterproofing drainage system keeps the basement floor dry - but it doesn't do anything to make basement walls dry or look better.

The revolutionary new ZenWall® Basement Paneling System is the answer. ZenWall® is a ¼" thick encapsulated fiberglass core with a reflective foil vapor barrier on the back side and a decorative vinyl finish on the front side. It can be used with a perimeter basement waterproofing systems to waterproof a basement wall and stop water vapor from coming through the wall into the basement air.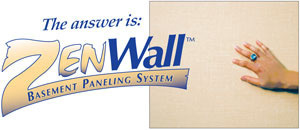 The finish on ZenWall® looks great - as great as you can get without doing a full basement finishing project - and is a fraction of the price. It makes a huge difference in what your basement looks like and how you feel like when you're in your basement.
Paint and coatings will flake and fall off. Wood can rot and grown mold. Both treatments are not suitable for basement environments. Cold, damp, concrete walls, moldy drywall or chipping paint is not what you want in your basement!


ZenWall® comes in 2 ½ foot by 8 foot panels. All fasteners are hidden with the specially designed trim pieces. We use foil as a vapor barrier because it gives the added benefit of a radiant barrier, and therefore some resistance of heat flow through the panel one way or the other. While the colors and pattern and texture of the ZenWall® vinyl finish hide dirt and marks, the panels are also washable, so keeping them clean is not a problem.

ZenWall® can make up to a 10 degree difference in the surface temperature of the wall, adding comfort and saving energy. Aside from all of these benefits, ZenWall® panels can be installed in any basement to make your walls look great!
Click here to watch a video about vapor barriers for finishing your basement walls
CleanSpace® for Basement Walls
This is a basement wall solution for leaky stone wall basements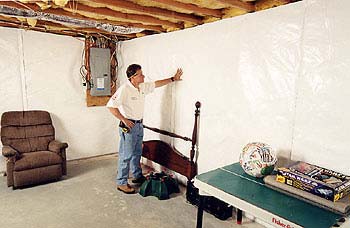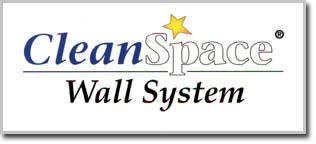 We use CleanSpace®, a durable liner - like a pool liner, for lining dirt crawl spaces. It is perfect as a basement wall solution for stone walls basement. Because stone walls are not flat, they are not candidates for BrightWall® paneling. The CleanSpace® provides a vapor barrier, drains water behind it and dramatically brightens the basement. It will have waves in it because it comes off of a roll rather than in panels, but the CleanSpace® is very durable and nearly impossible to rip.
The CleanSpace® Wall System
A 20-mill thick reinforced liner that is installed with permanent drilled-in fasteners. It is a fast, economical way to cover ugly walls, stop water vapor from permeating the walls and drains wall leaks down behind it to the perimeter basement waterproofing drainage system (WaterGuard®). The white color really brightens Minnesota basements, reflecting available lighting. If you're looking for a quick, economical way to dry and improve the appearance of your walls, this system is for you no matter your location in northern Iowa, western Wisconsin or southern Minnesota.
Click here to watch a video about vapor barriers for finishing your basement walls
Basement Finishing System

If you have experienced groundwater flooding that has damaged the drywall in your finished basement, we have the basement finishing system that you need for your basement.

Our EverLast Wall Restoration System is the ideal way to replace wet, mold drywall, fiberglass insulation, and wood studs permanently.

Installing the EverLast Basement Wall Restoration System gets rid of the need to rip out finished basement walls and studs, while these waterproof panels are able to withstand a basement flood without the need to ever repair or replace the walls in the future.

Along with being waterproof and mold-resistant, EverLast Basement Wall Panels includes a stylish white and beige vinyl finish.

This is a fully washable and stain-resistant surface that's strong enough to last through normal wear and tear in your home; even if children or pets will be using the area.

In addition, these wall panels are solid, durable surfaces that will not be damaged by door handles or be nicked of dented easily like drywall. The system is finished off with crown molding, as well as stylish chair rail, for a beautiful finishing touch.

We are a family owned operated basement waterproofing and foundation repair contractor in Minnesota. We proudly serve Minnesota, Wisconsin and Northern Iowa. Contact us or call 1-507-387-0500 today!
Looking for a price? Get a no cost, no obligation free estimate.