Downspouts
Complet Basement Systems offers a variety of downspouts for individuals in: Minneapolis MN, St. Paul MN, Mason City IA, Rochester MN, Austin MN, Albert Lea MN, Fairmont MN, Mankato MN, Burnsville MN, Eden Prairie MN, Saint Cloud MN, and other areas of MN and IA
Downspout Extensions

The RainChute® downspout extension is recessed in the ground, so it does not detract from your home's curb appeal and doesn't interfere with your lawn mower - you never have to move it, perfect for homeowners in southern Minnesota, northern Iowa and western Wisconsin.
RainChute® downspout extensions will never clog because they self-flush leaves and debris away and freezing conditions from cold Minnesota winters won't affect the use.
RainChute EZ®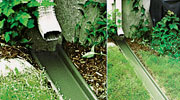 The RainChute EZ® rain gutter downspout extension directs roof water away from the foundation quickly and easily. It's best for where there is a landscape area near the foundation. RainChute EZ® is above ground and takes downspout water 3 to 8 feet away from the foundation. This is a terrific solution for landscapes in Mankato, Minneapolis, Mason City, Rochester or Eau Claire or anywhere that Complete Basement Systems of MN services.
Sump Pump Discharge Line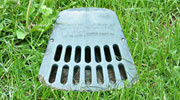 Outlet grate disperses water at the end of an underground downspout extension or sump pump discharge line. The LawnScape™ Outlet is strong enough to ride your lawn tractor over and the lid comes off for easy cleaning. It is best for downspout extensions or sump pump discharge lines over eight feet long.

We are a family owned operated basement waterproofing and foundation repair contractor in Minnesota. We proudly serve Minnesota, Wisconsin and Northern Iowa. Contact us or call 1-507-387-0500 today!
Looking for a price? Get a no cost, no obligation free estimate.