Basement Flooring
Complete Basement Systems offers basement flooring sales and installation services for homeowners in: Minneapolis MN, St. Paul MN, Mason City IA, Rochester MN, Austin MN, Albert Lea MN, Fairmont MN, Mankato MN, Burnsville MN, Eden Prairie MN, Saint Cloud MN, and other areas of MN and IA.
Basement Floor Tiles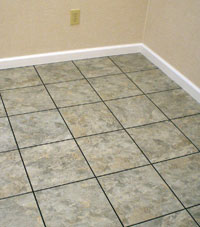 If you want to install a finished basement floor that will not grow mold, you may believe that simply laying basement floor tiles directly on to your basement floor is a great basement remodeling idea. While this works in the rest of your home, your finished basement floor is going to need something more.
Whether you live in Mankato, Blue Earth or Humboldt, Iowa, if you lay ceramic or vinyl tile on your basement floor, you will notice right away that your basement floor is cold and uncomfortable underfoot. This is because regular tile is bonded directly to the floor-there is no thermal break protecting your finished basement from the Minnesota environment outside. All ThermalDry® Basement Floor Tiles come equipped with pegs that raise the tiles from the basement floor, creating a thermal barrier that makes them 8-10 degrees warmer that tiles bonded directly to the floor.
While laying tile on a basement floor may slow down water vapor seeping from the concrete basement floor into the finished basement, it cannot serve as a vapor barrier. ThermalDry® Basement flooring protects your finished basement from the humidity seeping from the concrete basement floor from reaching your remodeled basement. Additionally, water vapor continues to pass through and is now building up underneath the tiles. ThermalDry® Basement Floor Tiles create a vapor barrier between your concrete basement floor and your finished basement area, with space for air to move underneath the tiles and for moisture to dry.
Basement Finishing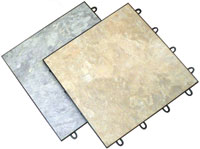 Tiled ThermalDry® Basement Flooring is durable and made to help homeowners with basement finishing for many years to come. Unlike ceramic basement floor tiles, they will never crack or shatter. They are stain resistant, and their interlocking system assures that any scratched or otherwise damaged panels can be easily and conveniently replaced by removing the tile and snapping a new tile in its place. You will not need to tear the panel off the floor, insert a new tile and wait 24 hours to reuse the area. Replacement of Thermaldry® Tiled Basement Flooring is easy and the tiles are ready right away!
In fact, ThermalDry® Basement Flooring is faster and easier to install and to use than normal floor tiles in both replacement AND installation. Installing ceramic tile is an involved process that requires a great deal of equipment. It is messy, and once installed, you will not be able to use the space until it's been given time to dry and set. Installing ThermalDry® Tiled Basement Flooring into your finished basement is clean, fast and easy. As soon as Complete Basement Systems of Minnesota and northern Iowa installers are done, you can begin to enjoy your finished basement floor - no waiting necessary!
ThermalDry® Tiled Basement Floor Tiling is attractive! Available in Sandstone and Canyon Beige, it comes in tones that will fit the ambiance of any basement remodeling concept. Unlike floor tiles, it blends seamlessly with carpeting, allowing you to create a custom architectural look by mixing carpet and tiles together to fit any design you'd like.
Basement Carpet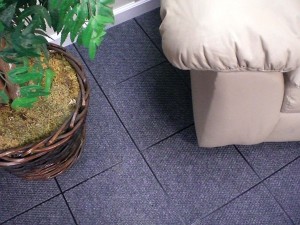 Traditional basement carpet is a source For mold and mildew. When laid directly on the basement floor, traditional carpeting alone is not appropriate for a basement finishing project in southern Minnesota or northern Iowa. Water leaking into the basement from the walls and coming from leaking plumbing as well as water vapor seeping through concrete basement floors will find its way into your basement and collect in the carpet. At the right temperature, mold and mildew will grow on any organic material in the basement, releasing musty smells into your finished basement and adversely affecting your health. All too soon, your carpet will have to be ripped up and replaced, ruining your finished basement.
Like all ThermalDry® tiles, it creates a thermal break in your basement floor and a vapor barrier that prevents moisture from the concrete basement floor to reach your carpet or create humidity in your basement air. The carpeting is also inorganic, which means that it will never promote mold growth or rot like normal carpeting would.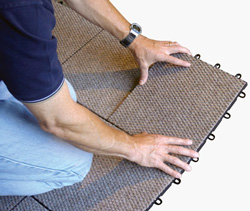 When you install wall-to-wall carpeting, you commit yourself to a long, unbroken sheet. It's beautiful when it's first installed, but in the back of your mind, you'll feel the lingering threat of a stain, tear or worn area on your otherwise perfect carpeting. What can you do if your wall-to-wall carpet is stained or damaged in a way that you cannot repair or clean? What do you do if you live in Red Wing, River Falls or Spirit Lake? Empty the finished basement, tear out the entire carpet and replace it at great expense? Hide the mark under a piece of furniture? Live with the stain? There is no good answer.

Have found a better way to finish a basement floor, available in 1'x1' square interlocking tiles, each tile is a separate, removable piece. This means that if one becomes stained or damaged, it can either be relocated to another section of the finished basement or conveniently and inexpensively replaced without having to replace the entire system.

Available in Charcoal and Mocha, ThermalDry® carpeted floor tiling comes in neutral, timeless colors that never go out of style. Easy to clean and durable enough to last as much as twice as long as regular carpeting without needing to be replaced, ThermalDry® carpeted flooring is designed to be long-lasting in both style and quality.
Basement Floor Matting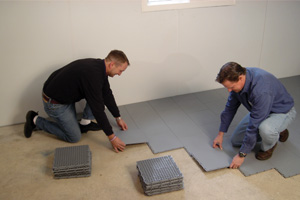 Basement floor matting creates an inorganic barrier that will never grow mold or rot between the damp basement floor and the new carpet in your finished basement.
ThermalDry® Basement Floor Matting is an appropriate surface for your wall-to-wall carpeting or padding installations. We recommend installing carpeting with tack stripes instead of gluing it to the panels (although it has been done) so that you may still use the same sub floor again and again with new carpeting. Normal carpeting will not generally be as easy to dry in the case of a wet basement as the finished Thermaldry® Basement Floor Systems, but it will provide you a world of options when you're finishing your basement in southern Minnesota, northern Iowa or western Wisconsin.
Like all ThermalDry® Basement Flooring, ThermalDry® Basement Floor Matting creates a thermal break between your finished basement and the cold basement floor. Installing ThermalDry® Flooring makes your basement floor 8-10 degrees warmer than before and makes your finished basement more energy efficient.
f you're not planning on finishing your basement, ThermalDry® Basement Floor Matting is still a good idea for your basement, as it will still provide the vapor barrier and thermal break between your cold basement floor and the rest of the basement. Additionally, it prevents water vapor from getting trapped underneath, festering and growing mold, making your basement more useful for safe storage of your valuable and important personal possessions.
There is no organic material in ThermalDry® basement flooring systems, so they will not support mold growth.
Finishing your basement? They are the perfect solution for your cold, damp concrete floor!
If you want a custom color, we can install the ThermalDry® tiles, carpet and matting and still get all the benefits.
We are a family owned operated basement waterproofing and foundation repair contractor in Minnesota. We proudly serve Minnesota, Wisconsin and Northern Iowa. Contact us or call 1-507-387-0500 today!
Looking for a price? Get a no cost, no obligation free estimate.