Dehumidifiers
Eliminate damp, musty odors in your basement or crawl space once and for all, by drying and filtering the air with dehumidifiers! We offer our basement and crawl space dehumidifiers in: Minneapolis MN, St. Paul MN, Mason City IA, Rochester MN, Austin MN, Albert Lea MN, Fairmont MN, Mankato MN, Burnsville MN, Eden Prairie MN, Saint Cloud MN, and other areas of MN and IA
Wet Basement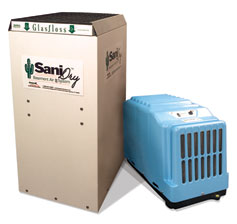 SaniDry™ Basement Air System is a powerful and effective dehumidifier - big enough to do the job of keeping yourwet basement dry. In fact, the SaniDry™ can even address a basement as large as 2,500 sq ft. The SaniDry™ will take three times the water out of the air as a typical dehumidifier, yet uses the same energy, and has no messy pan to empty. Keeping humidity down helps control moisture and reduces the chances for mold to grow. In general, mold will not grow at less than 50% relative humidity, and the SaniDry™ will help keep your basement below 50% relative humidity. Of course, any groundwater, plumbing or other leaks should be fixed, as part of a strategy to eliminate mold.
Basement Dehumidifiers
Basement dehumidifiers are essential to keep the level of moisture down in your basement. Just because there is no water in your basement does not mean that there is no mold. Any moisture level above 50% will allow mold to grow. The SaniDry will always keep your basement humidity at a safe level.
The SaniDry™ is equipped with a strong blower which will help to move dry air through your basement, bringing the moisture from your entire basement into the filter. It will not only dry the basement, but it will dry the structure itself and the contents as well. The damp smell that lurks in your basement will vanish along with the moisture. It makes a big difference during the summer, and we get many compliments about odors being eliminated.
As we said, you will never have to mess with a drain pan in your SaniDry™. It automatically drains to your drainage system and the water is eliminated through your sump pump so that you won't have to clean it. It truly is the crowning jewel of your basement waterproofing system that makes sure that your home is safe and dry forever.
Click here to watch a video about basement humidity
We are a family owned operated basement waterproofing and foundation repair contractor in Minnesota. We proudly serve Minnesota, Wisconsin and Northern Iowa. Contact us or call 1-507-387-0500 today!
Looking for a price? Get a no cost, no obligation free estimate.