Elevator Pits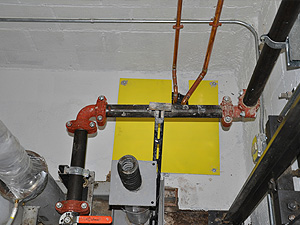 Water infiltration in elevator pits can be a serious problem. Not only can standing water cause rustand decay to expensive elevator equipment, but also the chance of mold growth could be a problem. The recent elevator codes state that there should be no water accumulation in an elevator pit. To adjust these issues, we have introduced a water abatement system that meets the guidelines set by these elevator codes and will eliminate a standing water issue, the Fit Pit System.
The Fit Pit System is designed to create a drainage path to a collection site within the elevator pit floor. The control and pump assembly, located outside the elevator enclosure and machine room, keeps track of the water level and pumps the excess water from the collection site to a pre-approved discharge location.
We provide our elevator pit services for the following areas: Minneapolis MN, St. Paul MN, Rochester MN, Austin MN, Albert Lea MN, Fairmont MN, Mankato MN, Burnsville MN, Eden Prairie MN, Saint Cloud MN, and other areas of MN.
Water Level Sensor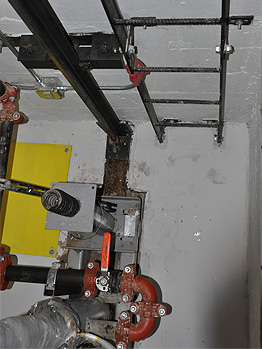 The Fit Pit – water level sensor and connector are the heart of this system. It is responsible to communicate the pump when it should go on and off. The pressure sensor comes with full setup instructions, including a pressure set point "on" and "off" setting sheet.
Control Panel
The Fit Pit Control Panel accommodates a high-level alarm light and buzzer. This panel, also, has a spare set of high level alarm contacts which can be used for future connection to a building alarm panel, if required by location inspector. The Fit Pit Control Panel gets mounted on the wall near both the sensor and the pump assembly. The system requires one 120 volt single pole 20 amp circuit for the control panel and one two pole 208 volt 20 amp circuit for the pump motor. We recommend that the junction box and final hookups be installed by a licensed electrician.
Water Pressure Relief

During the water pressure relief installation process, the elevator pit enclosure may be installed with a drain tile system that leads to a collection basket in the pit floor. The water is monitored in the basket by the pressure sensor.
Pump Assembly
The Fit Pit pump can vary depending on the requirements set by the elevator enclosure size, code requirements, the surrounding areas water table level and the needs of the customer. The standard Fit Pit model will be equipped with a shallow well jet pump, that can handle 29 gpm/1750 gph.
We are a family owned operated basement waterproofing and foundation repair contractor in Minnesota. We proudly serve the state of Minnesota. Contact us or call 1-844-709-7774 today!
Looking for a price? Get a no cost, no obligation free estimate.