Crawl Space Insulation & Radiant Heat Barrier Products Installed In Greater Minneapolis
Save money by keeping heat in and cold out of your crawl space!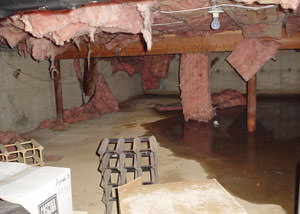 Fiberglass insulation in a crawl space tends to soak up moisture and humidity, growing mold and eventually causing it to "drip" off the ceiling.
Crawl spaces are shallow structures installed directly into the dirt under your home. As such, they tend to soak up the natural cold of the earth around your home and transfer it into the air in your crawl space.
If you have utilities in your crawl space such as your water heater, furnace, or hot water pipes, your energy bills will suffer. This cold will bombard your utilities, forcing them to work harder just to do the work that they ere designed to do.
At Victor Barke's Complete Basement Systems, we can upgrade your crawl space's energy efficiency with products that are durable, long-lasting, and made especially for the crawl space environment.
We can help you insulate your crawl space
Contact us today for your crawl space insulation quote! We serve Minneapolis/St Paul, Rochester, Mankato and many surrounding areas.
Crawl Space Insulation
TerraBlock™ crawl space insulation was developed to meet the challenge of insulating rough, uneven crawl space floors. However, this innovative insulation is versatile enough to be used on foundation walls as well. The ¾-in.-thick sheet material is covered on both sides with a durable moisture barrier that makes the insulation resistant to puncture and abrasion damage.
When you install TerraBlock™, you get insulation and moisture protection from a single product. When installed over a crawl space floor, TerraBlock™ also provides a cushioned surface that service professionals and homeowners will appreciate when moving around in the crawl space.

Read More About TerraBlock™ »
TerraBlock™ Specifications
Padded, Insulated Design -- TerraBlock™ is made of ¾" of foam insulation. It's padded, puncture-resistant, and durable enough for access by servicemen and homeowners.
Installs On Walls & Floors-- TerraBlock™ is available in rolls and fan-fold sheets, providing installers with different installation options to suit varying crawl space conditions. TerraBlock™ is appropriate for crawl space walls and floors.
Compatible With Our CleanSpace® System -- TerraBlock™ can be used as a standalone product, or it can be combined with our CleanSpace® Vapor Barrier, CleanSpace® drainage matting, SmartPipe™ French Drains and other products.
---
SilverGlo™ Crawl Space Wall Insulation panels look different because they ARE different. Tiny graphite particles permeate its foam insulation to give it that silver/gray shine.
These tiny particles reflect heat and lower the material's conductivity for superior R-value per inch.
In addition to resisting heat conduction, SilverGlo™ boasts a radiant barrier, which reflects heat back into your crawl space for ultimate energy savings. SilverGlo™ crawl space insulation can also be installed on the perimeter of your floor framing system (rim joist) for maximum energy savings.
For the best in energy efficiency, combine SilverGlo™ and TerraBlock™ together. This keeps the cold out of your crawl space -- and the heat in!

Read More About SilverGlo™ »
SilverGlo™ Specifications
Thick Material -- 2"-thick insulation with a radiant barrier to both insulate and reflect heat back into the crawl space.
Extra Insulation-- SilverGlo™ has an R-11 value insulation to keep more heat in the crawl space and home.
---
Contact Us for a Free Estimate!
Victor Barke's Complete Basement Systems services Burnsville, Saint Cloud, Brooklyn Park, Eden Prairie, Hopkins, Anoka, Mankato and many nearby areas in Minnesota.
Looking for a price? Get a no cost, no obligation free estimate.