Professional Radon Testing & Mitigation in Minneapolis, Saint Paul, Rochester, Burnsville MN
Radon Testing
Radon is a cancer-causing, radioactive gas that affects people in Minnesota, and that's why we offer Radon testing for homeowners in the area. You cannot see, smell, or taste radon, but it may be a problem in your home.
Radon, because it is a gas, is able to move through spaces in the soil or fill material around a home's foundation. Minnesota homes tend to operate under a negative pressure- this is especially true in the lowest portions of the home and during the heating season. This negative pressure acts as a vacuum (suction) that pulls soil, gases, including radon, into the lower level of the structure. Some causes of home vacuum are:
Heated air rising inside the home (stack effect)
Wind blowing past a home (downwind draft effect)
Air used by fireplaces, wood stoves, and furnaces (vacuum effect)
Air vented to the outside by clothes, dryers and exhaust fans in bathrooms, kitchens, or attics (vacuum effect).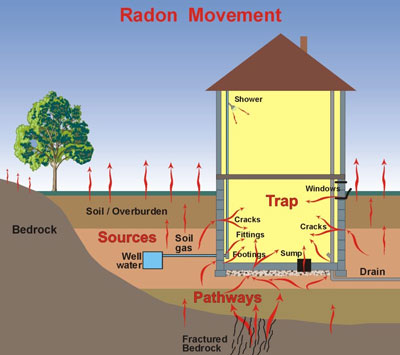 Radon can enter a home through the floor and walls- anywhere there is an opening between the home and the soil. Examples of such openings include dirt floor crawl spaces, unsealed sumps, cracks in slab-on-grade floors, utility penetrations, and the tiny pore spaces in concrete block walls. A basement, of course, provides a large surface area that contacts soil material.
Complete Basement Systems offers Radon removal services for individuals living in: Minneapolis MN, St. Paul MN, Rochester MN, Austin MN, Albert Lea MN, Fairmont MN, Mankato MN, Burnsville MN, Eden Prairie MN, Saint Cloud MN, and other areas of MN.
Radon Mitigation
Once radon enters a home, it moves freely throughout the indoor air and people can breathe it into their lungs where it can cause cell damage that may lead to lung cancer, and that's why you need Radon mitigation services from Complete Basement Systems. Understanding how it distributes through the home environment can help explain why timing and location are important factors to consider when conducting a radon test.
The level of radon is often highest in the lower part of the building. Radon moves through a house by diffusion and natural air movements. It can be distributed by mechanical equipment such as a forced-air ventilation system. As radon moves away from the home's foundation or other entry points, it mixes (and is diluted) into a greater volume of air. In addition, more dilution often occurs in the upper levels of the home because there is more fresh air ventilation there.
Greater dilution and less house vacuum may also occur when the house is more open to the outdoors during the non-heating season. This generally results in lower indoor radon levels in the summer compared to the winter.
It is important to do radon testing and measurements to ensure your family is not at risk from the effects of radon. We can help with radon mitigation in Minnesota.
We are a family owned operated basement waterproofing and foundation repair contractor in Minnesota. Contact us or call 1-507-387-0500 today!
Looking for a price? Get a no cost, no obligation free estimate.