Wet Basement
There are many ways water can enter your home and leave you with a wet basement. Pressure from water building up is called hydrostatic pressure. The greater this pressure gets, the more likely water will enter your home.
There are three type of leaks that can enter your basement:
Through the walls: The most common basement leak is due to seepage through wall cracks. These cracks will continue to deteriorate and will eventually leak, and this seepage will get worse over time. Other possible wall leaks are tie rod ends, honeycombed concrete and pipe penetrations


Through the floor or floor/wall joint: Most modern homes are built with a drain tile system around the footings to keep water from creating pressure against the floor or cove area


Over the top of the wall: Water entering at the top of the wall, between the concrete and wooden sill-plate, is due to one of 2 things: The soil grade has been built up outside the home, higher than the concrete, or homeowners, in their efforts to keep water away from the foundation, build the dirt level higher than the concrete wall, creating a seepage problem through the below grade brick or siding
We offer wet basement repair services in: Minneapolis MN, St. Paul MN, Mason City IA, Rochester MN, Austin MN, Albert Lea MN, Fairmont MN, Mankato MN, Burnsville MN, Eden Prairie MN, Saint Cloud MN, and other areas of MN and IA
Basement Waterproofing
Sometimes there is an above grade penetration of water, due to a caulking or tuck pointing issue, and you'll need basement waterproofing services. Any water that penetrates the veneer of the house will run down the back side of the siding and appear at the sill-plate juncture in the basement. The surest way to verify which of these two "spillover" problems you have is to water test by running a hose on the ground on a dry day. If water comes in, it is a below-grade problem. If water does not come in, then it is an above grade problem that will require caulking, tuck pointing or possibly roofing repairs.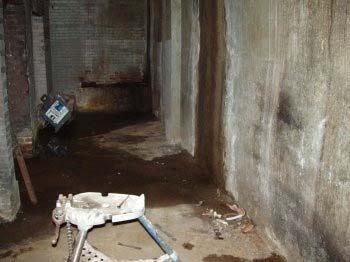 The basement is a valuable part of your home and is designed to be dry, usable space, whether as a finished recreation room, a workshop, or simply a safe storage area. Once a leak occurs however, its usefulness and value is very limited - fortunately permanent solutions are available for all seepage problems.
Leaky Basement
If you suffer from a leaky basement, mold and mildew in your home, or uncomfortable basement living space, let one of our specialists assess your problem and educate you to the causes, problems, and various wet basement solutions available.
At Complete Basement Systems of MN, we have been solving wet basement, basement waterproofing, foundation repair, crawl space repair, drainage and basement wall and crack repair for many customers for years. We are a family owned operated basement waterproofing and foundation repair contractor in Minnesota. We proudly serve Minnesota, Wisconsin and Northern Iowa. Contact us or call 1-507-387-0500 today!
Looking for a price? Get a no cost, no obligation free estimate.