Plumbing Protection
Your basement waterproofing will not be complete until you consider all of the risks and think about plumbing protection for your home. A flooded, wet basement can be caused many times by plumbing leaks. Water heaters and washing hoses are two of the biggest problems when considering basement finishing. Complete Basement Systems of MN offers products to make sure that these huge concerns don't become a concern in your life. The FloodRing for water heaters and FloodChek hoses for washing machines will make sure that your plumbing never causes a problem for your basement.
We offer plumbing protection services for: Minneapolis MN, St. Paul MN, Mason City IA, Rochester MN, Austin MN, Albert Lea MN, Fairmont MN, Mankato MN, Burnsville MN, Eden Prairie MN, Saint Cloud MN, and other areas of MN and IA
Water Heater Leaks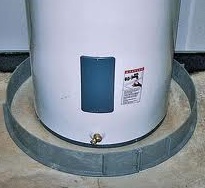 Most water heaters have a life of approximately seven years, but often will experience water heater leaks and will need repair. They should be checked frequently for leaking, or you are in danger of having a wet basement or even a flooded basement. It is important to check pipe connections and valves underneath your water heater to make sure that nothing is rusting and no leaks are present. Maintenance alone can help your water heater last longer. Where basement seepage is usually slow and able to be controlled by waterproofing, a bad water heater can destroy your possessions quickly.
Complete Basement Systems of MN offers the FloodRing keep your basement dry. The semicircle FloodRing hooks straight into your drain tile system, so any water that comes out of your water heater will automatically be rerouted into your drainage system and into your sump pump. Since there is no way to know when your water heater is going to fail, the best answer is to be prepared for anything.


Washing Machine Hoses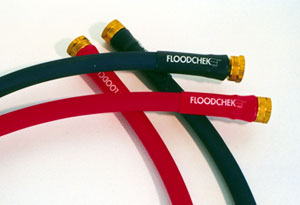 Did you know that if you are not running a load of laundry, the best practice for your home is to shut off the water feeds to your washing machine because washing machine hoses could wear out easily? Unfortunately, most of us do not remember to do that - or even to shut them off when we leave our houses for extended periods. When you let your water run continually, there is a great amount of pressure applied to your washing machine hoses - between 60 and 80 pounds. Most machine hoses are not equipped to deal with that kind of pressure. If they break - your basement floods. The typical outlet can spew out 650 gallons of water - per hour. It can destroy everything in your basement, cause mold and rot, and if your washing machines are on an upper floor, destroy anything beneath them.
Complete Basement Systems of MN offers FloodChek hoses - reinforce, rubber hoses, which will not become brittle like traditional water hoses, and they won't break at crimp points like steel hoses. The Floodchek hoses have a traditional rubber tube but are reinforced with braided rayon, then two different types of rubber over that. They also have solid brass couplings so that they won't corrode and break at the entrance.
Sump Pump Discharge Lines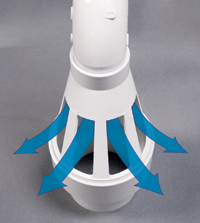 Sump pump discharge lines can freeze, especially in the northern regions. Pipe terminations can become covered with snow and ice in the winter. This can spell disaster for your basement if the sump pump water cannot exit the line outside. You'll have piece of mind with the patented IceGuard sump pump discharge line system!
The IceGuard system allows water to escape from a sump pump discharge line if the pipe freezes or becomes blocked for any reason. Even if the pipe outlet is buried under a foot of ice and snow, the water can escape, allowing your sump pump to keep your basement dry. When the discharge pipe thaws, the water will automatically run along its normal route, and no water will escape from the IceGuard. There are no valves to turn, hoses to attach, or anything for the homeowner to do at all - it's totally automatic!
When the discharge line was covered by snow and ice and frozen solid, blocking water from escaping out of the pipe, the IceGuard allowed the water to escape during repeated pump cycles. IceGuard saved this basement from getting flooded even in these extreme conditions!
The patented design of the IceGuard automatically allows water to escape through its perforations. This unique feature provides an exit when pipe terminations are blocked, usually by ice or snow.
The SuperSump, SmartSump, and TripleSafe sump pump systems come standard with the IceGuard anti-freeze device in regions where freezing temperatures are a problem.
Any questions or concerns about the plumbing protection, give us a call at 1-507-387-0500 or contact us today! We proudly serve Minnesota, Wisconsin and Northern Iowa.
Looking for a price? Get a no cost, no obligation free estimate.