Drain Systems
Complete Basement Systems offers a variety of drain systems for homeowners in: Minneapolis MN, St. Paul MN, Mason City IA, Rochester MN, Austin MN, Albert Lea MN, Fairmont MN, Mankato MN, Burnsville MN, Eden Prairie MN, Saint Cloud MN, and other areas of MN and IA.
Interior Drainage System

An interior drainage system is installed around the inside of the basement along the wall, you can capture water at the most common point of entry - the floor/wall joint. This is an effective way to help solve wet basement problems in the Minnesota and northern Iowa. You can also capture water from the walls and prevent the center of the basement floor from leaking by intercepting the water at the perimeter of the floor before it gets to the center.
The advantages of an interior drainage system include:
Accessibility to do the job
More affordable than an outside system
Installs in a day or two
Easily serviceable year round
It works
Basement Waterproofing Company
Our basement waterproofing company offers interior drainage systems - between which there are big differences in systems. Some are old-fashioned and generic, and others are modern and specially designed for the job.
In the 1950's and before, clay pipe sections about 18 inches long were used for underground and under-floor drains. There were no holes in the pipe, but instead the sections were laid with a quarter-inch space between them to let in water. Since the pipe sections were made from clay tile material - like a chimney flue pipe or a brick- they called it drain "tile." This term, drain tile, is still used today to refer to a pipe with holes or slots in it that is buried for drainage, even though the industry switched to plastic pipe long ago. These generic, round, perforated drainpipes can be used for field drainage, exterior footing drains, road drainage, and just about anything.
Clay or plastic, the pipe was usually laid alongside the footing in new construction applications, and many contractors do the same for retrofitting an existing home. However, this placement of the pipe isn't necessarily the best. Existing drains alongside the footing have failed - usually by clogging with dirt. Slowly, different methods began to develop in the 60's, and afterward.
Today, there are several systems that has all the benefits that homeowners and contractors like us are looking for.
A drain system can pull all of the water from around your foundation into it, redirecting it to your sump pump. These systems are the beginning of good waterproofing - they will ensure that you don't have to ever worry about your basement flooding again. Complete Basement Systems of MN offers several systems, including:
WaterGuard
DryTrak
TrenchDrain
WaterGuard® Waterproofing System

The patented WaterGuard® waterproofing system has a design that separates it from the soil under your floor so it will prevent it from clogging. It has a special wall flange that creates a neat space between the floor and the wall to drain any wall seepage, without allowing dirt and debris from the floor to enter.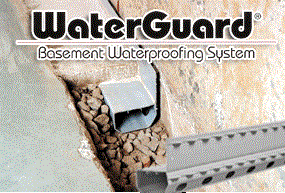 The WaterGuard® system is applicable to all types of foundationsincluding brick, poured concrete, stone and etc. Weep holes are drilled into block walls to drain water out of the walls into the system.
Water enters the WaterGuard® system with holes on the wall side and flows in the WaterGuard® conduit to a primary pump or other drain.This system is warranted to keep your basement clean and dry so you can use the space for storage, recreational purposes, or to finish for additional living space.
Click Here to watch a video about WaterGuard Drainage Systems
DryTrak® Basement System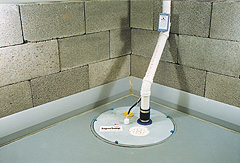 The patented DryTrak® basement system is an amazing system which is made for basements that have problems at the cove joint.
It is an above-floor system that requires no digging. It will never clog like traditional french drains because it is not sitting in the dirt. This system works specifically well with cinder block foundations, although it can be used for other types of foundations as well.
The DryTrak® system has been proven in thousands of basements and will keep your home dry. This is the only system that is appropriate for monolithic foundation waterproofing - or a foundation where the floor and wall of your basement are poured as one piece.
TrenchDrain® Waterproofing System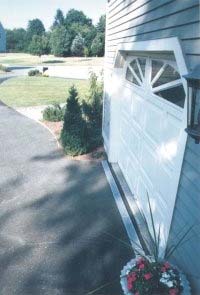 In addition to the patented WaterGuard® system, we offer another waterproofing system called the TrenchDrain®.
It is for exterior doorways stairs and garage doors. It will deal with the extra water that these areas have without spoiling your foundation.
If you would like to know more or schedule an appointment, please contact Complete Basement Systems of MN or call 1-507-387-0500 today! You can also learn more about our dehumidifiers for basements. We proudly serve Minnesota, Wisconsin and Northern Iowa.
Looking for a price? Get a no cost, no obligation free estimate.