Basement Insulation in the Twin Cities
& Greater Minnesota

At Complete Basement Systems of Minnesota, we are committed to helping customers find ways to make their basements dry, livable and safe for the whole family to enjoy, and one way of doing this is to install basement insulation. Whether you have an unfinished or a finished basement, our new wall panel insulation product is an amazing insulator and will cut your utility bills in half. In addition to creating a really nice sound barrier and saving you energy expense, this system makes any basement ready to be finished. Read on and then call us for a free consultation. For energy savings ideas in Minnesota - Call Basement Systems of Minnesota, today!
We offer our basement insulation installation services for: Minneapolis MN, St. Paul MN, Mason City IA, Rochester MN, Austin MN, Albert Lea MN, Fairmont MN, Mankato MN, Burnsville MN, Eden Prairie MN, Saint Cloud MN, and other areas of MN and IA
Basement Insulation Installation
Complete Basement Systems makes use of InSoFast Basement Insulation for all basement insulation installation projects.
Closed-Cell High Density Polystyrene Foam
The panels are a TYPE III Vapor retarder which means they are inherently mold resistant and won't soak up water like organic material does. The foam sheets are fire-retardant and rated for below grade (basement) applications so they will NOT absorb moisture. Other open-cell type applications allow moisture in. Type III vapor foam is the perfect insulating material for unfinished or finished Minnesota basements.
Embedded Polypropylene Attachment Studs
The attachment studs are made of 100% recycled polypropylene. This material has low thermal conductivity yet has extremely high strength and durable.
These studs will never mold or rot and they will not bow or twist, leaving a straight, stable surface for drywall or exterior finishes attachment. Think about all the energy savings.
Alignment Notches

This panel wall system is designed with a self-aligning notch system in the insulation panels to assure that the panels are installed on the concrete surface in alignment. This keeps the studs and wiring chases aligned and secure, and assures a snug fit for your insulated walls.
Tongue & Groove Edges
The tongue-and-groove design on the ends of the basement insulation panel help to keep the panels flush on the surface. They are also flashed in such a way as to keep water from traveling to the front side of the panel.
Wiring Chases
Wiring chases run vertically at 16" on center and horizontally at 24" on center in the panels. This grid work of chases provide easy access to pull wiring to any location. Makes doing the electrical work a simple task.
Ribbed Gluing Surface
Each insulation panel has three attachment studs with a ribbed surface to allow the adhesive to maintain a tight adhesion to the wall.
The studs can be located with a standard stud sensor. We glue the basement insulation panels up and now you can start saving on energy bills, finish out the basement recreation, TV or workout room.
Recessed Attachment Points
Recessed attachment points on the face of the integrated stud allow for any mechanical fastening that may be needed. Masonry screws can be used as these attachment points are recessed.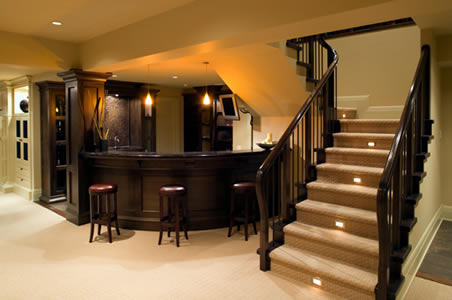 Basement Finishing
Fresh basement insulation is great for any basement finishing project. So, call us now! We are a family owned operated basement waterproofing and foundation repair contractor in Minnesota. We proudly serve Minnesota, Wisconsin and Northern Iowa. Contact us or call 1-507-387-0500 today!
Looking for a price? Get a no cost, no obligation free estimate.